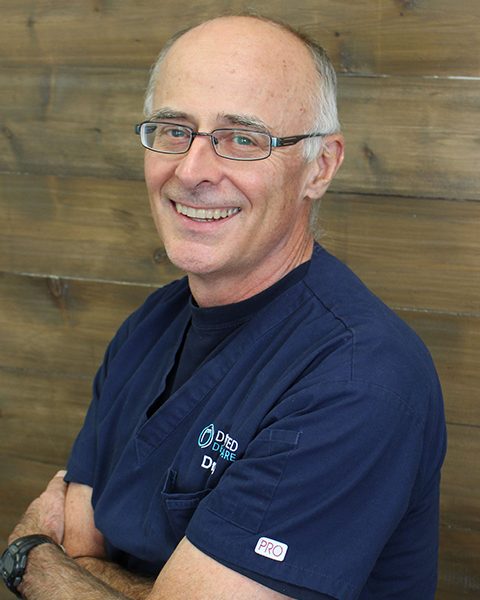 DR. MIKE NICHOLLS
From a young age, Dr. Mike always aspired to be a dentist. This aspiration came from visiting the dentist as a child and being intrigued and attracted by their precision and attention to detail. He also had a vision to help people and provide them with dentistry in a less fearful and more comfortable environment.
Dr. Mike was accepted into UBC and completed two bachelor degrees in physical education and biology. He then went on to complete a teaching degree and set out on a career teaching high school math. He soon realized he'd missed his true calling and resolved to go back to university to realize his dream of becoming a dentist. Dr. Mike graduated from UBC's dental program and has been practicing in Abbotsford since 1988. Dr. Mike participates in three study clubs (ongoing educational courses), reads several dental journals and stays up-to-date by reading a plethora of online articles.
He attributes his success in dentistry to a belief in putting patients' needs first, to his amazing, committed and loyal staff and patients and to dedicating himself to ongoing dental education. Helping patients and building relationships has been Dr. Mike's greatest reward.
Living in Abbotsford with his wife Rhonda, Dr. Mike cherishes time spent with family and friends. He is a firm believer in living a healthy lifestyle and loves staying active. He is an avid cyclist, endurance runner, and plays hockey. He enjoys absolutely everything to do with the outdoors (aside from golfing, even though he lives on a golf course) including fishing, canoeing, hiking, and skiing.
BOOK YOUR NEXT APPOINTMENT ONLINE
Request an appointment online when it's convenient for you!