Dental implant placements require hundreds of hours of specialized training. Dr. Mike and Dr. Kanda continuously invest themselves in ongoing education, keeping in step with the latest advancements in the field. They have both taken part in the AAID (American Academy of Implant Dentistry) Vancouver Maxicourse, which is an implant course that includes 300 hours of training over a one-year span.
WHAT IS A DENTAL IMPLANT?
Dental implants are as close as dentistry has come to permanent tooth replacement. An implant replaces a missing tooth by placing a permanent titanium "root" into your jaw. An artificial tooth is then attached to the new titanium fixture. Implant procedures represent the highest level of knowledge and technology in dentistry.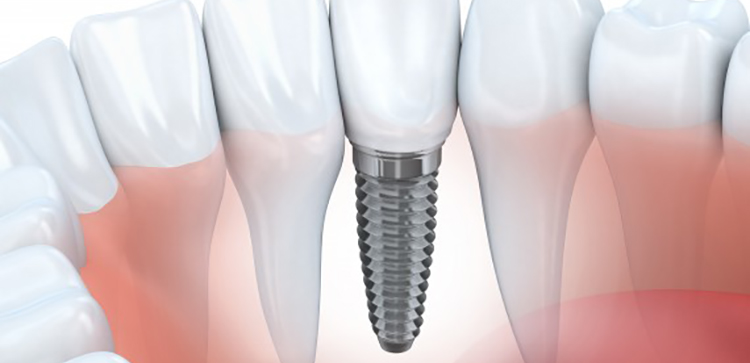 WHY CHOOSE DENTAL IMPLANTS OVER OTHER OPTIONS?
Dental implants look and feel like real teeth.
If a tooth is missing, a dental implant will prevent other teeth from moving into that space and out of alignment.
Dental implants do not damage adjacent teeth as fixed bridges do.
Unlike dentures, dental implants are fixed in place.
Dental implants help to preserve jaw bone.
Dental implants can support a bridge or denture with a very comfortable and natural feel.
There is no need for removal at any point in time, whereas dentures are removed daily.
Unlike dentures, there is no social stigma associated with dental implants.
There is no risk of a dental implant affecting speech.
Dental implants are a permanent solution. They cannot be lost, are not damaged easily and are unlikely to require replacement.
WHY MIGHT SOMEONE CHOOSE TO GET DENTAL IMPLANTS?
The patient has a tooth that is unable to be restored and needs to be extracted.
They have one or more missing teeth.
Have a fixed bridge with one of the adjacent teeth damaged.
Have dentures and want something more permanent and fixed that significantly improves comfort and increases the ability to chew.
Please keep in mind that dental implants are not always the best option for every patient and that every mouth is not the same. Please call to schedule a consultation. If dental implants are not right for you, we can recommend alternative treatments.
CONTACT US
If you require further information about this or any other service offered by Dedicated Dental Care, please contact us. Our friendly staff would love to answer any questions you may have.